E-Commerce and SSL

Security With SSL Certificates

The Strongest Root Certificate Available Today

In 1998, GlobalSign had the foresight to create a strong Root Certificate by using 2048 bit RSA keys. This makes the GlobalSign Root Certificate the most widely distributed Certification Authority to already meet the NIST (National Institute of Standards & Technology) recommendation that from 2011 onwards all cryptographic keys should be 2048 bit in strength. Anything less than 2048 bit will most likely be deemed insecure, which has prompted the CA/Browser Forum to insist that all Extended Validation SSL Certificates are to be 2048 bit from the 1st January 2009 in anticipation. GlobalSign provides 2048 bit strength across the entire Digital Certificate portfolio.
GlobalSign SSL Certificates include SGC technology that forces a weaker 40 bit SSL session to at least 128 bit, and in most cases now 256 bit. 128-256 bit SSL sessions are trillions times stronger than 40 bit and allow all site visitors, no matter where they are in the world to benefit from stronger encryption levels. Few SSL Providers have the capability of offering SGC, and for those that do, SGC is often added as "pro" services and carries a premium price. Every GlobalSign SSL Certificate is capable of 256 bit strong SSL, and includes step-up SGC technology that forces weak browsers to stronger browsers free of charge.
Malware distribution detection is included with all SSL Certificates and is a passive service that alerts your administrator if your site has been breached by hackers or exploits and is being used as a vehicle for hidden malware distribution such as viruses, spyware and trojans.
Search engines like Google, Yahoo and Bing take a poor view of sites distributing malware, whether they know they are distributing or not. If the search engines find malware being distributed via your site, expect to be blacklisted and even excluded from search results completely.

Global Sign SSL Pricing

1 year
2 years
3 years
Alpha SSL Certificate

$39.99

$74.99

$104.99

Alpha Wildcard SSL Certificate

$79.99

$149.99

$189.99

Domain SSL Certificate

$109.99

204.99

$194.99

Domain Wildcard SSL Certificate

$349.99

$639.99

$839.99

Organization SSL Certificate

$119.99

$189.99

$249.99

Organization Wildcard SSL Certificate

$299.99

$499.99

$699.99
If you have other SSL needs, please just contact us - we can arrange whatever you need.
E-Commerce Solutions

World Class Shopping Carts For your Site!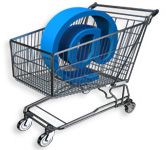 There is a common belief that the trend now is away from self hosted shopping carts towards a packaged e-commerce system - where you pay a monthly registration fee and your e-store is hosted for you on the store software provider's server.
But don't be fooled - this approach is attractive for its simplicity, but is not the best solution for everyone. There are some great advantages to having your store on your own independent site, and we can provide you with software that is not only free, but will do a fantastic job in administering your store. Below are some of the options open to you if you host your own e-store with us.

With CubeCart you can quickly setup a powerful online store which can be used to sell digital or tangible products to new and existing customers all over the world.

Freeway doesn't just sell products but extends to sell in some very fancy new ways and is very configurable. You will find Freeway has very strong CRM features as well as a useful and simple CMS as well.

Magento serves more than 110,000 merchants worldwide and is a feature-rich, open-source, enterprise-class platform that offers merchants a high degree of flexibility and control over their online store.

Opencart is a robust solution for merchants with the ability to create their own online business and participate in e-commerce. Feature rich, easy to use, search engine friendly and with a visually appealing interface.

An online shop solution offering a wide range of out-of-the-box features. Online stores can be setup fairly quickly with ease. OsCommerce is one of the most successful Open Source softwares.

Prestashop was built to take advantage of essential Web 2.0 innovations such as dynamic AJAX-powered features and next-generation ergonomy. It guides users through your product catalog intelligently and effortlessly, turning intrigued visitors into paying customers.

The art of e-commerce; free, user-friendly, open source shopping cart software being developed by group of like-minded shop owners, programmers, designers, and consultants.
Implementation

Helping you use the tools, to realize your goals
The shopping cart software options listed above (and others) are a big of the resources you will need to bring your e-commerce vision to life. But of course there is more to it than that. You need to set your shop, and your business, apart from your competitors, who also have access to the same tools and opportunities that you have access to.
You'll also need reliable hosting, a great domain name, and a visually compelling design to make your shop stand out from the crowd. We can provide you with those things. If you have any questions about any of these things, please just contact us and we can talk it over. We'd love to hear from you.

I had no problem getting help fast any time I ask. Can't get much better than that. I am happy I selected your company to host my site. Robert Frank.
What We Offer
Miscellaneous